Tamiya Team Lotus 99T Honda - #84191 (Radio Controlled Model Review)
1/10 Scale Electric Formula One - F103 Chassis:
Released by Tamiya on February 26, 2011, the Team Lotus 99T Honda Kit (#84191) is No.691 of their Limited Sale Series, based on the F103 Chassis. The original Lotus Honda 99T kit (#58068) was introduced in October 1987, based on the "Road Wizard" chassis.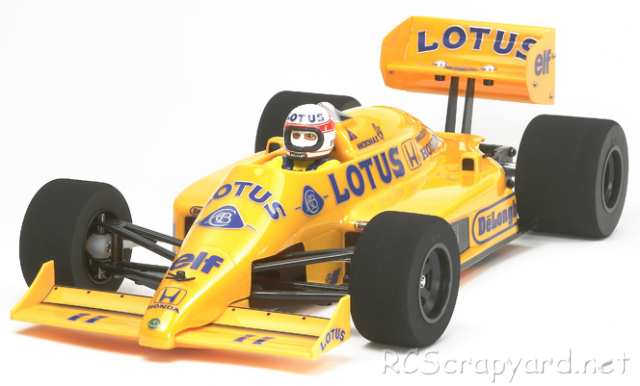 ▼ Scroll Down for More Images ▼
A number of changes were made to the F103 following the old F102 chassis. The chassis plate, motor mount and upper deck were re-designed, a friction damper coupled with a damper plate assembly was included and the steering servo was re-positioned.
In the old F102 the steering servo was laid on its side, this meant the tie rods were different lengths, giving the car a different turning circle on the left to that right. In the F103 the servo is held upright in a fixed frame, allowing the rods to be of even length.
The kit comes with a 540 brushed Motor and Plastic bush type bearings, that after a short while, when dust and grit get into them, can actually wear into the metal drive shafts that spin in them - our recommendation is that these should be replaced by a full set of steel shielded ball bearings ASAP.
Rating:

Reviewed by:

RCScrapyard
Manual.