Tamiya Rahal Hogan Motorola Lola T94/00 Honda - #58148 (Radio Controlled Model Review)
1/10 Scale Electric Indy Car - F103L Chassis:
Released by Tamiya on November 29, 1994, on the F103L chassis, the Rahal Hogan Motorola Lola T94/00 Honda was the car driven by Mike Groff in the 1994 Indy car season.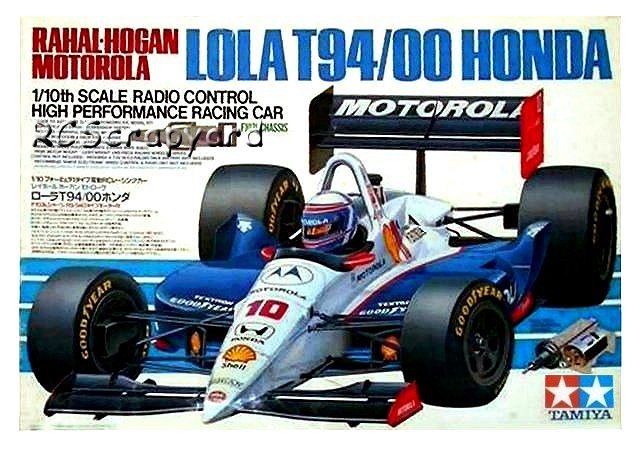 ▼ Scroll Down for More Images ▼
Based on the F103 chassis, the F103L has a longer wheelbase and to give the chassis more rigidity it employs a double deck configuration.
Like the F103, the F103L chassis has a number of changes from the old F102 chassis. The chassis plate and motor mount were re-designed, a two part upper deck was added and a friction damper coupled with a damper plate assembly was included and the steering servo re-positioned.
In the old F102 the steering servo was laid on its side, this meant the tie rods were different lengths, giving the car a different turning circle on the left to that right. In the F103L, as it is in the F103, the servo is held upright in a fixed frame, allowing the rods to be of even length, giving equal turning circle and improved steering.
In conclusion. I never actually raced the F103L chassis, but by all accounts the design worked well.
Rating:

Reviewed by:

RCScrapyard
Manual.