RCScrapyard ► Anti Squat Explained • for Beginners in Radio Controlled Model Racing.
| | |
| --- | --- |
| | |

Anti Squat Explained
For Beginners in RC.
What is Anti Squat?


Described as the angle at which the suspension arms pivot in relation to the chassis, Anti Squat effects traction under acceleration.

Considered to be at its most effective from a standing start, the handling and stability of the majority of modern day On Road and an increasing number of Off Road models, can be improved with a certain amount of anti squat, normally no more than around 3 degrees.


How Anti Squat affects your Car


Basically, more anti squat gives you more traction, but after a certain point, that advantage is lost and the car will become unstable when turning into high speed corners. For Off Road models anti squat can also improve how the car handles on bumpy tracks.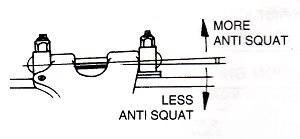 Less anti squat allows the car to drop at the rear under hard acceleration, providing less traction, but more stable when cornering. If no anti squat is present, with the lower suspension pivot shaft being parallel to the chassis, steering will be sharp and can induce some over-steer.


Most manufacturers have some anti squat on their car kits provided as standard and hop-up parts are generally available to change the anti squat angle, but more often, on a wide range of models, all that is needed is a washer or two under one side of the suspension pivot block. However, if the block is held in position using self tapping screws, it may be prudent to change them for slightly longer ones.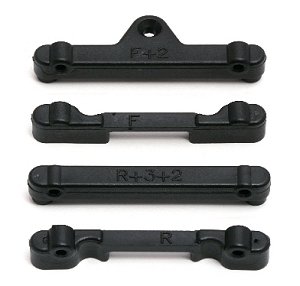 If you are thinking of trying a different setting on your car, not just for anti squat, always remember to only make one change at a time. Too many changes to your set-up made at one time, can make it difficult, if not impossible, to determine which change you made gave you the result you desired.



▼ Scroll Down for More Articles and Advice ▼




Or, check out our RC Model Car Setup Guide




---
---
---
---
---
---
---
---
---
---
---
---

On/Off Road
RC Models:

Radio
Equipment:

Accessories: