Tamiya Tyrrell P34 Six Wheeler - #49154 (Radio Controlled Model Review)
1/10 Scale Electric Formula One Car - F103RS Chassis:
Released by Tamiya on November 16, 2000, this RC model is of the Tyrrell P34, that was the first and only 6 wheel Formula one car and was unveiled by Tyrrell in 1975. Tamiya have reproduced this popular model a number of times. This version is on a modified F103RS chassis.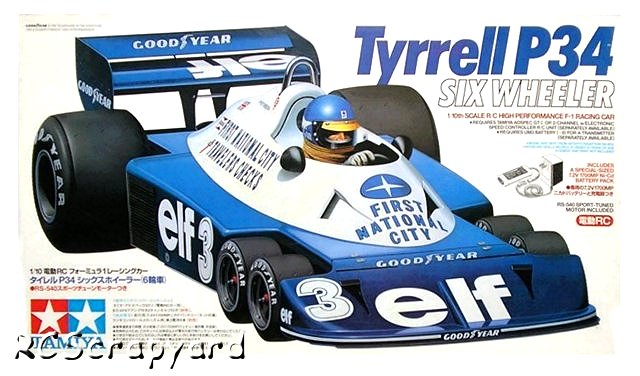 ▼ Scroll Down for More Images ▼
Basically, the F103RS chassis is a moderately upgraded F103. Upgrades include, to reduce weight, the metal damper has holed drilled in it. The best of the upgrades was the inclusion of a knurled nut adjuster for the friction plate damper and of course, for this model, the 4-wheel steering system. A vast array of Hop-Ups were also available.
Disappointingly, the kit comes with nylon/plastic and sintered brass bush type bearings that after a short while, when dust and grit get into them, will abrade the metal drive shafts that spin in them - if you are building this kit to race seriously these should be replaced by steel ball bearings.
Some considered the F103RS to be a vast improvement over the basic model, but for me, even with the upgrades, it was only marginally better and not worth the extra cost. It was cheaper to upgrade my old F103 with the damper adjuster and a set of ball bearings … I loved that car.
Rating:

Reviewed by:

RCScrapyard
Manual.