RCScrapyard ► Sway Bars Explained • for Radio Controlled Models.
| | |
| --- | --- |
| | |

Sway Bars Explained
For Radio Controlled Beginners.
What are Sway Bars?


On most forms of RC model cars, Sway Bars, also referred to as Stabilizers, Torsion Bars, or more commonly in some parts as Anti Roll Bars, are often nothing more than a short length of spring steel, clamped to the chassis or sometimes the gearbox of the car, extending out to the lower wishbones direct or connected to the wishbones using short adjustable or fixed length links and ball joints, depending on their position.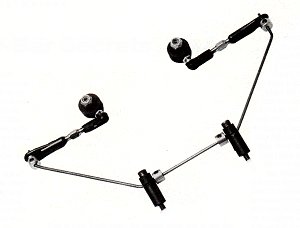 The principal behind the Sway Bar is simple. As the car enters a corner, weight is transferred to the outside wheels, the chassis rolls due to inertia and the suspension dips and grip on the inside wheels is reduced. In an effort to counter this dipping effect and transfer some grip back to the inside wheels to improve traction as you exit the corner, the sway bars transfer the dip of the outside, to pull down the inside wishbones, improving grip on the outside wheels and improving overall stability.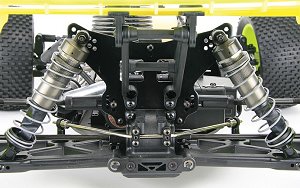 Sounds complicated I know, but for some tracks sway bars can be a useful tool when you have exhausted all other options to correct your handling problems.

Tuning your Sway Bars is quite easy. Some manufacturers do offer colour coded tuning sets with varying thicknesses of spring steel wire, but the best way is to change the position the bar is attached to the wishbone, or on some variations you have the option of positioning the link on the Sway Bar itself. By simply moving a small collet clamped along the short length of the bar. Closer to the central pivot point reduces the leverage of the bar and effectively increasing its resistance, further away from the pivot point reducing resistance. More fine tuning can be achieved by adjusting the length of the turnbuckle link (if available) to pre load the bar.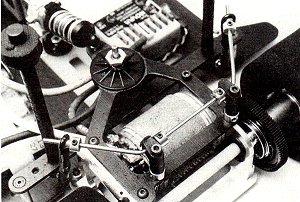 Personally, before I ever installed any sway bars I would always try changing damper tuning springs and oil viscosity settings, especially if the track was uneven and bumpy, in which case the effectiveness of the bars was minimal if at all.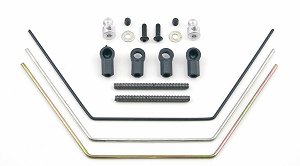 For those more into Drifting, Sway Bars can be an easy way to fine tune your car. A single turn on the turnbuckle links can be a way to simply increase or decrease wheel traction that minute amount you need to get the perfect balance.

For more on how to use Sway Bars check out our Set-up tips page linked below.



▼ Scroll Down for More Articles and Advice ▼




Or, check out our RC Model Car Setup Guide




---
---
---
---
---
---
---
---
---
---
---
---

On/Off Road
RC Models:

Radio
Equipment:

Accessories: