RCScrapyard ► Repairs • for Radio Controlled Models.
| | |
| --- | --- |
| | |

Emergency Plastic Part Repairs
For Radio Controlled Models.
How to Repair a Broken Plastic Part


It always happens when you least expect it. You are racing hard; when suddenly some idiot decides to side swipe you and break your front wishbone. Even though you may carry spare parts for just about everything on your car, it always seems to be the same part that breaks and although you made a mental note the last time it happened, to get a replacement, you soon realise those mental notes are not worth the paper they were written on.

So there you are, in the middle of nowhere with no spares. You ask around and no one has anything like your car, least of all parts for it and the closest model shop is 100 miles away. What are you supposed to do now?

Some kind of repair is your only option.

The one thing quite a few people think of first is superglue, but that kind of repair won't even get you around the first corner.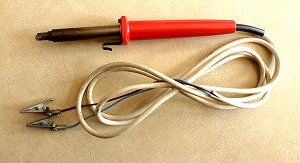 What you need is something much stronger and the only way you can do that requires a good quality soldering iron, the plastic sprue (the bit left over when you remove all the parts for your car) or another broken part made from the same plastic.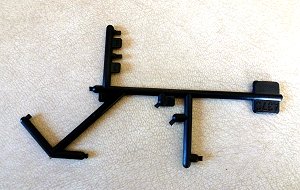 Using the largest tip you have, set the temperature so that it melts the plastic, but does not vaporise it. Place your broken part on a flat surface that will not be affected by the heat from the iron. I use the glass plate I have for setting the wheel camber of my model. Next, cut a piece of scrap plastic long enough for you to be able to hold on one end, as you work with it and place it over the break. At the point directly over the break, carefully melt the scrap plastic until it is around one millimetre above the break.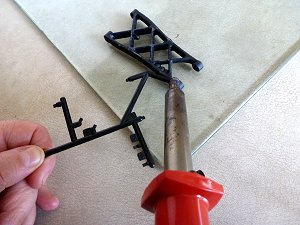 Gently slide the iron sideways, depositing the scrap plastic about five millimetres either side and around the break. At each end of the fix, try to meld the scrap and broken part plastic. Picking up the broken part, continue the melding around each side of the break, then place it down the flat surface and repeat the process on the other side.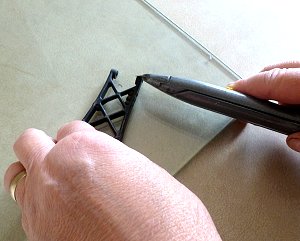 When satisfied, switch off the iron and allow the plastic to cool. Using a modelling knife, carefully, cut away any excess plastic, but not too much.

With a little practice a fix like this can be almost as strong as a new part and can save you a whole lot of anguish.



▼ Scroll Down for More Articles and Advice ▼




Or, check out our RC Model Car Setup Guide




---
---
---
---
---
---
---
---
---
---
---
---

On/Off Road
RC Models:

Radio
Equipment:

Accessories: