What is Caster?


Caster is basically the angle the steering kingpins or steering pivot points, leans back in relation to the horizontal when viewed from the side of the chassis.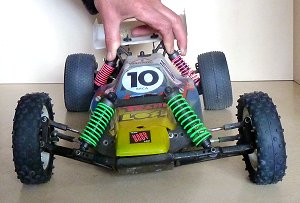 To test the effectiveness of your cars caster, place your model on a flat surface, point the front wheels straight ahead and push the chassis over to one side to simulate body roll when cornering. You will notice that as the car leans over, all four wheels also lean over in the same direction. Tires provide the most grip when the wheels are perfectly vertical and the full width of each tire is flat on the ground. Body roll pushes the wheels past the vertical and reduces the amount of tire contact. Now, if you turn the front wheels as if cornering and again push the chassis over, you will see that in this position, the front wheels are now more vertical, giving you better ground contact and therefore improved grip.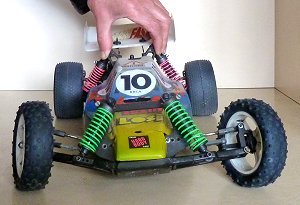 Another effect of caster can be seen by disconnecting your steering servo and pushing your car along the floor. Because of caster and the kingpins leaning back, your car will naturally roll straight ahead.

Obviously, the more body roll your car induces, the more positive caster you need to counter it. Buggys, Trucks and Truggys, because of their high ride height and long dampers have more body roll and therefore require more positive caster than on road cars, with their low ride height and shorter dampers.

If you consider a corner as having three parts: An entrance, middle and an exit. Caster influences each of them.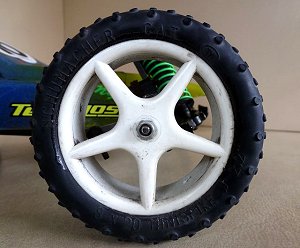 With a high degree of positive caster, as you enter the corner and body roll is at its greatest, steering is better. In the middle section, as body roll reduces, steering is less effective and some under-steer is induced, that will continue as you accelerate on corner exit.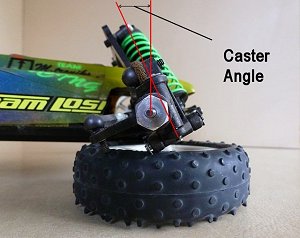 With a low amount of caster, steering response is improved in the middle section of low speed turns and will be more likely to over-steer on corner exit because of increased front end grip from the tires.

Too little caster can result in difficult handling on corners and poor stability on the straights.

Most modern RC model kits come with a standard caster setting that has been set for the best handling by the manufacturers. If you are new to the sport I would recommend you stick with this setting until you get a little more experience.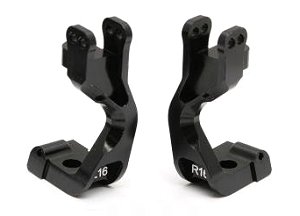 Methods to adjust caster can vary from model to model. Sometimes it is as simple as moving the position of a plastic washer from one side of the top wishbone pivot bar to the other, or simply using a small clip. Models from some manufacturers often have specific caster blocks to change the angle and must be purchased separately.



▼ Scroll Down for More Articles and Advice ▼




Or, check out our RC Model Car Setup Guide