RCScrapyard ► Aerodynamics • for Beginners in Radio Controlled Model Racing.
| | |
| --- | --- |
| | |

Aerodynamics
For Beginners in RC.
Having the Right Bodyshell


It is commonly understood that weight improves traction. If you have ever seen TV coverage of any kind of full size motor racing, you will have heard the terms, aerodynamics and down force. Well, they also relate to small scale models in exactly the same manner.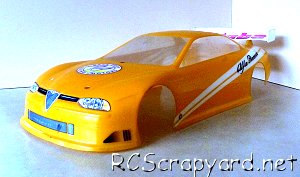 Bodyshell aerodynamics for RC model cars is a science in itself and the wrong one could loose you the race. Back in my day the shell to have for 1:10 on-road, was the Alfa Romeo 156. The bodyshell that came with my Schumacher SST kit was a Peugeot 406, but that soon went into the bin when I got the Alfa. The difference in performance was amazing, but it wasn't a patch on the Frewer, Ferrari F50. The rear wing on that bodyshell was phenomenal; it was the fastest thing on the track, great for club racing, but to my cost, illegal for top level racing. Regulations stipulate that the rear wing should be no higher than the roof of the car, the Frewer wing was way too high, so another one was relegated to the "do not use" box.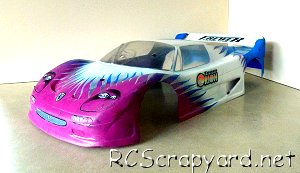 Off-Road models also benefit from aerodynamics and downforce, but to a lesser extent than on road models. The rear wing provides good downforce for better rear end traction and is discussed in detail in one of my other articles.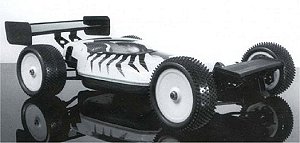 Way back in 1994, a company named Tenth Technology produced a 1:10 buggy called the Predator. The design of the car was innovative to say the least, with inboard laydown cantilever operated shocks and extra low, almost flat bodyshell. The most eye-catching element of the design were the wings. Not only did it have a nice large wing on the rear, it also had one at the front. It was one of those cars where the idea seemed good and the car was fast … very fast and did once win the British Championship. The problem was its fragility. Any small knock damaging the front wing, made it un-drivable.



▼ Scroll Down for More Articles and Advice ▼




Or, check out our RC Model Car Setup Guide




---
---
---
---
---
---
---
---
---
---
---
---

On/Off Road
RC Models:

Radio
Equipment:

Accessories: