RCScrapyard ► List of Servo Manufacturers for Digital Radio Equipment / Systems.
| | |
| --- | --- |
| | |

Servos

For Radio Controlled Models.
Servo Information

Servos are found on all kinds of Radio Controlled Models. RC Touring Cars, Buggys, Trucks, Truggys, Monster Trucks, Rock Crawlers, Airplanes, Helicopters, Boats and Ships and are used primarily to facilitate Steering, Throttle Control, Rudder Operation and Wing Flaps.

For complete RC beginners, choosing the right servo can be confusing, so in this article are a few tips to point you in the right direction.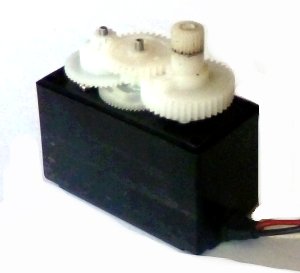 The cheap standard servos, with plastic ring type bearings (that are often supplied with kit packages), are fine when you first start in RC, but the majority of these servos have plastic or nylon gears that can break easily in the slightest collision. To protect your servo gears to some degree, make sure you have a good "servo saver".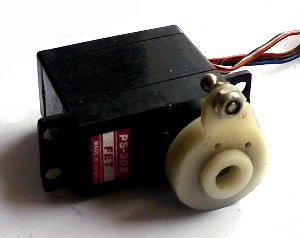 Servo Savers come in a number of forms and are often included as standard on some RC Models. The best ones, in my opinion, are those that use a small spring to absorb the shock of the crash and are simply fitted in place of the servo horn.


---
---
---
---
Choosing a Servo

For lightweight, small scale models, plastic geared servos are fine. But for medium to large scale RC models, I would recommend metal or titanium gear servos. These servos are by nature heavier and more costly than the plastic geared ones but are well worth the extra expense, for obvious reasons.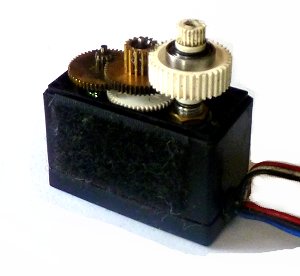 Digitally controlled Servos use a microprocessor based controller board. They are generally faster, provide better torque and centralise more accurately than the older Analogue types, but again at a higher cost.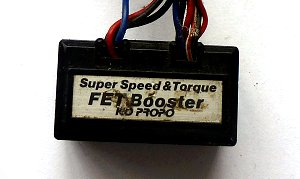 In the early 1990s some of the more expensive Servos used separate FET Boosters to improve speed and efficiency, these had to be hard wired to the positive lead of the battery. It wasn't long before they were superseded as miniaturisation and FET technology advanced, incorporating the FET diodes within the Servo casing.

As you advance in experience and skill, you might feel the need for something to match your lightning reflexes. Mos-FET, or simply FET Servos use Ball bearings and FET diodes to provide the high speed response you crave, but at a price. However, if your budget will stretch to the higher cost, the improvement in performance can make a big difference.


---
---
---
---
Servo Connectors

One thing to be wary of when looking for a new servo, is the connector. Check the documentation of your Receiver or examine the sockets and compare them to the illustration on this page. Generally there are two types used for RC servos: Futaba "J" and JR "universal".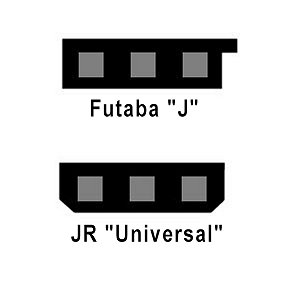 Futaba "J" have a small tab molded onto the side of the connector housing, designed to help you with the correct positioning of the positive and negative leads of your servo when plugging it into the Receiver. The JR "universal" provides the same help by using bevelled edges on their connector housings.



▼ Scroll Down for More Articles and Advice ▼




Or, check out our RC Model Car Setup Guide




---
---
---
---
---
---
---
---
^ TOP ^
---
---
---
---
^ TOP ^
---
---
---
---
^ TOP ^
---
---
---
---
^ TOP ^
---
---
---
---
---
---
---
---
^ TOP ^
---
---
---
---
^ TOP ^
---
---
---
---
---
---
---
---
---
---
---
---
---
---
---
---

On/Off Road
RC Models:

Radio
Equipment:

Accessories: