Tamiya Tyrrell P34 Six Wheeler 1976 Japan GP - #84111 (Radio Controlled Model Review)
1/10 Scale Electric Formula One Car - F103 Chassis:
Released by Tamiya on January 9, 2010, this model of the original 1975 Tyrrell P34, that was the first and only 6 wheel Formula one car, has been reproduced by Tamiya a number of times. This version is No.611 in the Limited Sale Series, based on the F103 chassis.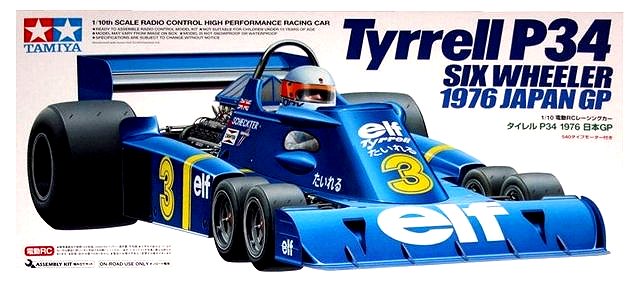 ▼ Scroll Down for More Images ▼
A number of changes were made to the F103 following the old F102 chassis. The chassis plate, motor mount and upper deck were re-designed, a friction damper coupled with a damper plate assembly was included and the steering servo was re-positioned.
In the old F102 the steering servo was laid on its side, this meant the track rods were different lengths, giving the car a different turning circle on the left to that right. In the F103 the servo is held upright in a fixed frame, allowing the rods to be of even length. My first thoughts when I saw this was it raised the centre of gravity. However, my first run of the F103 was a revelation. The car handled like a dream, I was amazed at the difference a small change like that could make.
In conclusion. The F103 chassis is a vast improvement over its predecessors and in the right hands can be a world beater.
Rating:

Reviewed by:

RCScrapyard
Manual.