Ride Height Tips


To allow the suspension on any RC model to do its work properly, it needs to ride in a position where it is able to react to any bumps and holes it may encounter on the track. Therefore, it needs to be adjusted to somewhere in-between those limits. That position is commonly termed "ground clearance" or "ride height" and is generally measured as the distance between the underside of the chassis and the ground, with the motor and battery etc installed.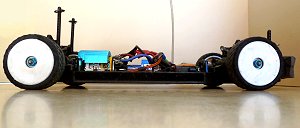 Simply speaking, determining the optimum ride height is dependent on the specific track conditions and "droop" setting (see my previous article). For Off Road models the rule is simple, the bigger the bumps and the deeper the holes, the higher the ride height. And for On Road, the lower the ride height, the better.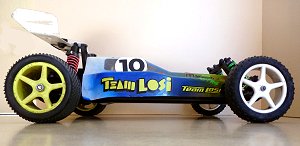 For 1:10 Buggys I generally recommend a starting point for ride height at around 3/4 of an inch or 20mm. 1:10 Trucks and Truggys,1 1/4 inches or 30mm upwards, depending on the wheel diameter. For 1:10 On Road models, somewhere around a 3/8 of an inch, or 5mm.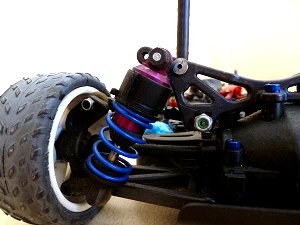 Ride height doesn't just affect the way the car handles uneven track conditions, it also influences the way the car handles when cornering. For a stable car, body roll must be kept to a minimum and keeping the ride height low, is by far the best and easiest way to control it.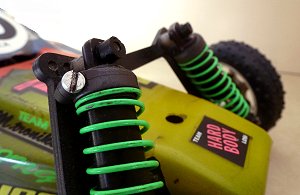 Before you begin to set the ride height, it is best to make sure that each pair of shocks are exactly the same length, have the same spring type and same silicone oil weight. Also, if you don't have a ride height gauge of any kind, decide what height you want set your car to and prepare some kind of slip gauge to that dimension, a book, a pen, or anything that measures to what you want. I used an old square plastic servo mount, which was exactly 5mm for my touring car. It may be low tech, but it is just as accurate as any gauge you can buy.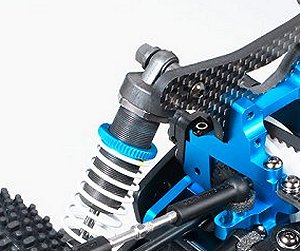 To set the ride height, the race ready car must be placed on a flat surface. Slide your slip gauge under the chassis and adjust the height by adding or removing tension to the damper springs. This is done on most models by using small C shaped clips, placed over the damper, above the springs, or via clamp type collars. On a number of top of the range models, this adjustment can be made by screwing a knurled nut on each threaded damper body. As a rule if the springs are compressed by more than 25% they should be replaced by stiffer springs. The gauge should just slide under the chassis on all four corners of the chassis.



▼ Scroll Down for More Articles and Advice ▼




Or, check out our RC Model Car Setup Guide