Tamiya Sauber C12 - #58130 (Radio Controlled Model Review)
1/10 Scale Electric Formula One Car - F103 Chassis:
Released by Tamiya on December 14, 1993, the Sauber C12 raced in the 1993 Formula One world Championships driven by Karl Wendlinger and JJ Lehto and powered by the Ilmor 3.5 V10 engine.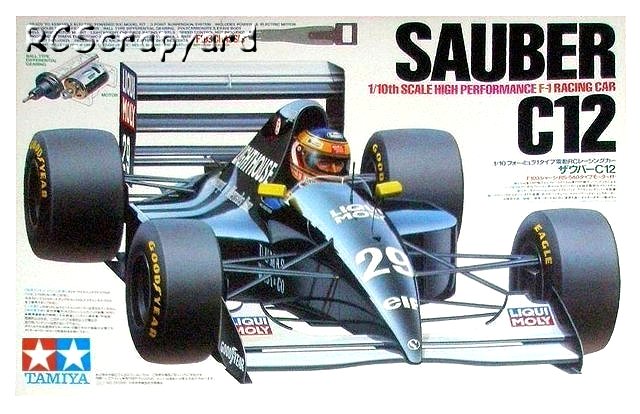 ▼ Scroll Down for More Images ▼
A number of changes were made to the F103 following the old F102 chassis. The chassis plate, motor mount and upper deck were re-designed, a friction damper coupled with a damper plate assembly was included and the steering servo was re-positioned.
In the old F102 the steering servo was laid on its side, this meant the tie rods were different lengths, giving the car a different turning circle on the left to that right. In the F103 the servo is held upright in a fixed frame, allowing the rods to be of even length. My first thoughts when I saw this was it raised the centre of gravity. However, my first run of the F103 was a revelation. The car handled like a dream, I was amazed at the difference a small change like that could make.
In conclusion. The F103 chassis is a vast improvement over its predecessors and in the right hands can be a world beater.
Rating:

Reviewed by:

RCScrapyard
Manual.