Tamiya XB Alpine A110 - # 57807 (Radio Controlled Model Review)
1/10 Scale Electric Touring Car - M-05Ra Chassis:
Released by Tamiya on October 30, 2010, the XB Alpine A110 (#57807) is No.107 in the RTR Pre-Assembled Expert Built Series, based on the M-05Ra chassis. The Tamiya Alpine A110 kit (#58471) was introduced in September 2010. The bodyshell was was previously released on the M-02 Chassis (#58168) in December 1995 and later on the M-06 Chassis (#58591 in January 2014 as the Renault Alpine A110 '71 Monte Carlo. The model is of the Alpine Renault A110 that finished First, Second and Third in the 1971 Monte Carlo Rally.
A pre-painted lexan bodyshell, a 540 motor and radio system are included, but may require a battery, charger and speed controller to complete (specifications differ from country to country).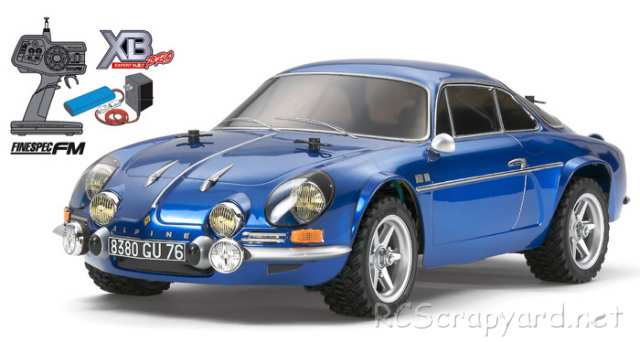 ▼ Scroll Down for More Images ▼
To upgrade the M-05 Chassis for Rally car racing, Tamiya designed a new front bumper, side bumpers and uprights for protection and strength, then produced 60D Rally-Block Tires for the small wheels.
Other than that, The 2WD, FWD (front wheel drive) M05Ra Chassis is exactly the same as the M-05 with its low centre of gravity and good weight distribution which coupled with four wheel independent double wishbone suspension, coil spring over friction shock absorbers, orbital bevel gear differential and bell crank steering gives excellent stability and handling on high speed corners.
The M05Ra Chassis has three possible wheelbase options: The basic 210mm, 225mm and 239mm, that are set by changing the position of the rear suspension parts.
Plastic bush type bearings are supplied with this model, that after a short while, when dust and grit get into them, actually wear into the metal drive shafts - our recommendation is that these should be replaced by steel shielded ball bearings ASAP.
To get the best from the Tamiya M-05Ra Chassis, it needs to be fine tuned, for smooth acceleration under control and handle corners at high speed, without slipping off the track. Small adjustments can make a Big difference and our simple to understand, step by step procedure, will guide you to the best
Set-up
for your driving style.
Rating:

Reviewed by:

RCScrapyard
Manual.