Tamiya XB Team Lotus Type 79 - #84214 (Radio Controlled Model)
1/10 Scale Electric Formula One - F104W Chassis:
Released by Tamiya on June 1, 2013, the XB Team Lotus Type 79 (#84214) is No.714 in the Expert Build, Limited Sale Series, based on the F104W Chassis. The Tamiya Lotus Type 79 kit (#84122) was introduced in August 2010. The model is of the Lotus Type 79, that was driven by Carlos Reutemann and Mario Andretti in the 1979 Formula One season.
A pre-painted lexan bodyshell and 540 motor are included, but a radio system, battery, charger and speed controller are required to complete. (specifications differ from country to country).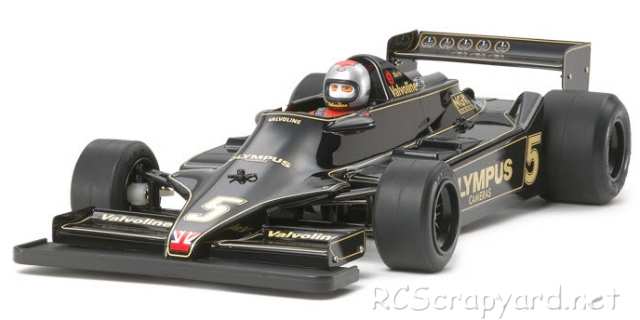 Based on the F104 Chassis, the F104W (W for Wide) has the same double deck design features as the F104 but with the front wishbones of the F103 Chassis.
The basic F104 is 180mm wide and the F104W is 205mm wide, making it 25mm wider. This is achieved on the rear by simply placing the hub mount deeper inside the rear wheels and on the front by utilising the F103 configuration. Ball bearings were included for rear axle, with bushings for the front.
The model comes with Plastic bush type bearings, that after a short while, when dust and grit get into them, can actually abrade the metal drive shafts that spin in them - our recommendation is that these should be replaced by a full set of steel shielded ball bearings ASAP.
Rating:

Reviewed by:

RCScrapyard
Manual.