Tamiya XB Ferrari F60 - #84161 (Radio Controlled Model)
1/10 Scale Electric Formula One - F104 Chassis:
Released by Tamiya on October 30, 2010, the XB Ferrari F60 (#84161) is No.661 in the Expert Build, Limited Sale Series, based on the F104 Chassis. The Tamiya Ferrari F60 kit (#58447) was introduced in December 2009. The model is of the Ferrari F60 that was driven by Kimi Raikkonen and Felipe Massa in the 2009 F1 World Championships. The F60 designation is to commemorate 60 years of Ferrari F1 racing.
A pre-painted lexan bodyshell, a 540 motor and radio system are included, but may require a battery, charger and speed controller to complete (specifications differ from country to country).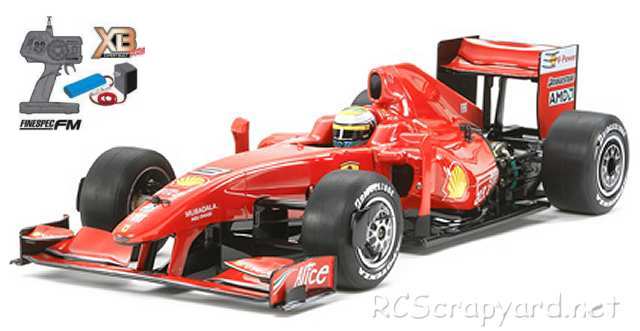 The twin deck FRP (Fibreglass Reinforced Plastic) chassis design of the F104 provides a more rigid structure than its 2WD predecessors and a radically re-designed front end allows for the setting of two different camber angles.
At the rear end, the cars suspension employs the usual friction plate and T-bar set up with a coil spring over friction damper. The gear case has been designed to be ground clearance adjustable to match the slick foam tire dimensions as they wear.
The smooth action pressure plate ball differential remains along with the steel axle shaft. The best part of this re-design for me is the re-positioning of the battery to a longitudinal position, vastly improving the centre of gravity and reducing body roll.
The model comes with Plastic bush type bearings, that after a short while, when dust and grit get into them, can actually wear into the metal drive shafts that spin in them - our recommendation is that these should be replaced by a full set of steel shielded ball bearings ASAP.
Rating:

Reviewed by:

RCScrapyard
Manual.