Tamiya Ferrari 312T3 - #47374 (Radio Controlled Model Review)
1/10 Scale Electric Formula One - F104W Chassis:
Released by Tamiya in September, 2018, the Ferrari 312T3 kit (#47374) is Limited Edition, based on the F104W Chassis. The original Tamiya Ferrari 312T3 kit (#58011) was introduced in February 1979, based on the "F1" Chassis. It was later released in 2001, on the F103RS Chassis. The model is of the Ferrari 312T3 that was introduced into F1 Grand Prix racing in 1978 and had success in the Constructor's Championship, attaining 2nd place and winning 4 Grand Prix in that same year with its driver Gilles Villeneuve.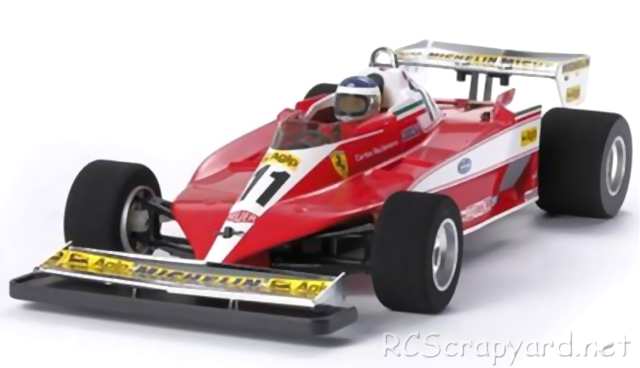 ▼ Scroll Down for More Images ▼
Based on the F104 Chassis, the F104W (W for Wide) has the same double deck design features as the F104 but with the front wishbones of the F103 Chassis.
The basic F104 is 180mm wide and the F104W is 205mm wide, making it 25mm wider. This is achieved on the rear by simply placing the hub mount deeper inside the rear wheels and on the front by utilising the F103 configuration. Ball bearings were included for rear axle, with bushings for the front.
The model comes with Plastic bush type bearings, that after a short while, when dust and grit get into them, can actually wear into the metal drive shafts that spin in them - our recommendation is that these should be replaced by a full set of steel shielded ball bearings ASAP.
Rating:

Reviewed by:

RCScrapyard
Manual.