Tamiya Williams F1 BMW FW24 - #58303 (Radio Controlled Model)
1/10 Scale Electric Formula One Car - F201 Chassis:
Released by Tamiya on February 26, 2003, this self assembly Radio Controlled Formula One model, based on the 4WD F201 Chassis is of the Williams F1 BMW FW24 that was driven by Juan Pablo Montoya and Ralf Schumacher in the 2002 F1 Championship, finishing overall Second and Third respectively.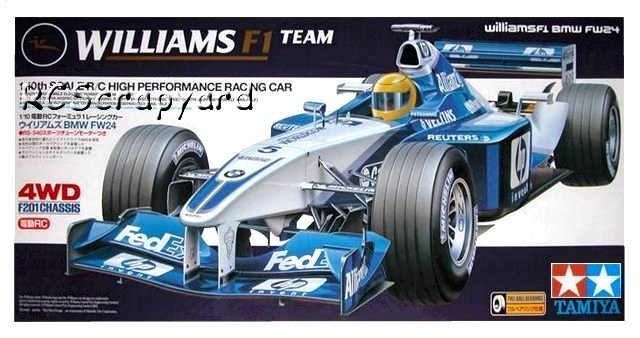 The ABS resin chassis for the F201 employs front and rear ball differentials that transmit drive from the centrally positioned spur gear assembly through two prop shafts to the front and rear wheels.
The suspension, similar to that first used on the Tenth Technology Predator in the early 1990s, employs four horizontally mounted coil spring over oil filled shock absorbers. This, coupled with the transversely mounted battery, positioned centrally, in front of the motor, provided almost perfect balance to the car. A full set of steel shielded ball bearings also come with the kit.
With the F201 chassis, Tamiya have produced the ultimate Radio Controlled Formula One experience. To drive, the F201 is superb to say the least. Just point it into the corner at the right angle and accelerate out with ease … brilliant.
Unfortunately for me, at my local racing club, the F201 chassis was banned when it first came out, so I had to fall back on my old faithful F103.
Rating:

Reviewed by:

RCScrapyard
Manual.