Tamiya Subaru BRZ R&D Sport - #58548 (Radio Controlled Model Review)
1/10 Scale Electric Touring Car - TA-06 Chassis:
Released by Tamiya on December 5, 2012, this TA-06 chassis based self assembly RC Model, is of the Subaru BRZ R&D Sport that took part in the 2012 Super GT season GT300 class.
The Lexan body shell in this kit is an accurate representation of the sleek sports car lines of the Subaru. An ESC, battery, charger and Radio equipment are needed to complete.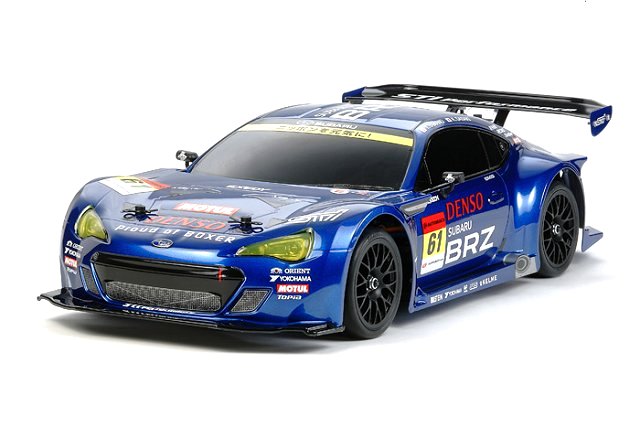 ▼ Scroll Down for More Images ▼
The highly adjustable, 4WD TA-06 Chassis, employs two bevel gear, oil filled, sealed differentials, coil spring over oil filled shock absorbers, bell-crank steering, low-friction drive belts and comes with a full set of steel shielded ball bearings.
The motor in the TA-06 is positioned towards the rear, transversely across the chassis, to improve the side to side centre of gravity and improve rear wheel traction. To cut costs for this chassis, Tamiya have used a number of TA-05 suspension parts.
Ni-Cad, Ni-Mh, Li-Fe and Li-Po batteries can be used in TA-06, positioned longitudinally in the centre of the chassis, from the underside, held in place by four screws and a plastic cover.
Two front suspension configurations are possible, set with the damper stay parts that come with the kit. These are: the Standard outboard suspension position and IFS (Inboard Front Suspension) using rocker arms, useful for low nose sports car body shells.
To get the best from the Tamiya TA-06 Chassis, it needs to be fine tuned to hug the corners at high speed, without slipping off the track. Small adjustments can make a Big difference and our simple to understand, step by step procedure, will guide you to the best
Set-up
for your driving style.
Rating:

Reviewed by:

RCScrapyard
Manual.