Tamiya Porsche 934 Turbo RSR - #58001 (Radio Controlled Model)
1/12 Scale Electric Racing Car - 58001/2 Chassis:
Released by Tamiya on December 4, 1976, the Porsche 934 Turbo RSR is the Number One Tamiya collectors dream car.
Compared to today's sophisticated RC models, this 1976 Porsche 934 Turbo RSR seems very basic. The chassis is made from aluminium plates bolted together - the rear axle come motor mount, employing two small coil springs, each surrounding a rubber sleeve to provide rudimentary suspension.
Improving the model to go faster proved difficult. Simply replacing the RS 360S Motor with a more powerful one was not the answer, because the car was so light in weight, this made it almost impossible to handle.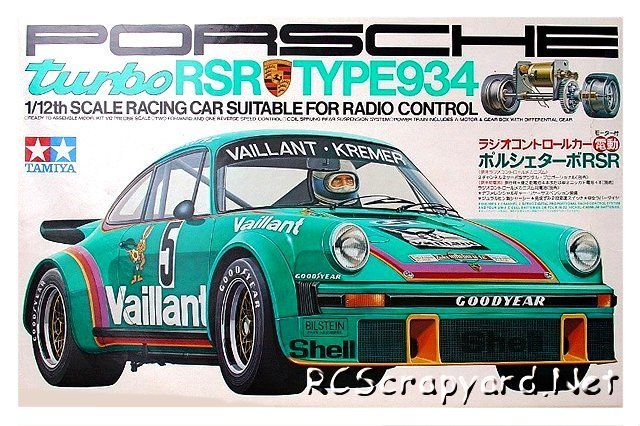 The metal chassis was light and also strong. The simple design made for easy construction. This car was built to last and many of the thousands bought have done so.
Although the original chassis, suspension, drive train and motor were basic the detailed body and tires makes the car appealing to those collectors wishing to display this model. The only negative is of course the cost.
Rating:

Reviewed by:

RCScrapyard
Manual.