Tamiya JPS Lotus 79 (Competition Special) - #58020 (Radio Controlled Model Review)
1/10 Scale Electric Formula One Car - F1-CS Chassis:
Released by Tamiya on April 16, 1980, this model of the JPS Lotus 79, based on the F1-CS chassis, is a detailed copy of the original car, driven by Mario Andretti, that won the 1978 Drivers and Constructors Championship, to break the stranglehold of Ferrari dominance.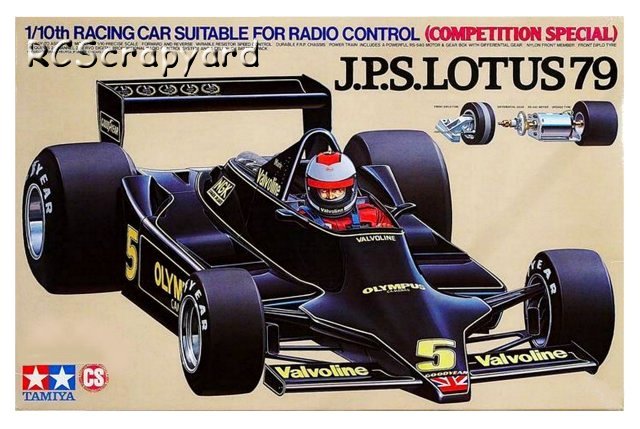 ▼ Scroll Down for More Images ▼
The Competition Special JPS Lotus 79 has the same chassis that was introduced with the Williams FW07 (CS) #58019 based on a hugely improved FRP plate that is far lighter than previous chassis types and incorporates nylon front uprights.
The RS-540S Motor gave the JPS Lotus 79 the edge when racing and was extremely popular in the 1980s with serious racing enthusiasts.
One of the most collectable of all the Tamiya First 100 models, the JPS Lotus 79 has many admirers, not only for its stunning body shell, but also for collectors of Lotus and Colin Chapman memorabilia.
Because of their popularity, parts and the cars themselves can be expensive, but no collector's cabinet would be complete without this model.
Rating:

Reviewed by:

RCScrapyard
Manual.