RCScrapyard ► Tamiya Lamborghini Gallardo LP560-4 Super Trofeo. ITEM #58456 (TA05 ver.II) - For Sale in The USA, UK, Australia, Canada, Spain and Ireland (Eire)
| | | | | |
| --- | --- | --- | --- | --- |
| | | Established 1999 | | Site Search |
---
Tamiya Lamborghini Gallardo LP560-4 Super Trofeo - #58456

1/10 Scale Electric Touring Car - TA-05 Ver II Chassis:

This Tamiya TA-05 Version II (TA05V.2) Chassis based model is of the Lamborghini Gallardo LP560-4 that raced in the 2009 Lamborghini Blancpain Super Trofeo one-make racing series.
The Lexan body shell is a detailed representation of the cars sporting lines. Decals of the watch face livery are included in the kit.
The TA-05 Chassis was first released in 2005 with a number of interesting innovative features, such as, ultra low centre of gravity and centrally mounted motor, spur gear and pulley plus matching front and rear pressure plate ball differentials and casings with equal length drive belts which kept production costs for Tamiya low, and therefore maintenance costs for the owner as well.
2007 saw the introduction of the TA-05 IFS (Inboard Front Suspension) version, employing a lay-down shock system mounted behind the front gearbox to allow for lower nosed body shells and in 2009 the IFS was updated, the difference being a narrower chassis, re-designed motor mount and a number of other parts from the TRF-416X. The chassis was re-launched as the TA-05 Version II.
Personally, I found the lay-down shocks a pain to set up for varying track conditions. However, a conversion kit is available.
To get the best from the Tamiya TA-05 Ver II Chassis, it needs to be fine tuned to hug the corners at high speed, without slipping off the track and accelerate smoothly under control. Small adjustments can make a Big difference and our simple to understand, step by step procedure, will guide you to the best Set-up for your driving style.

Rating:

RCScrapyard

out of 5 stars: Reviewed by:




---

★ Tamiya Lamborghini Gallardo LP560-4 Super Trofeo - TA-05 Ver II ★

---



---
Not Here?
It Might be Tomorrow.
Or, for Common items, try a similar Model or Chassis type.
★ Tamiya Radio Controlled Model Accessories: ★
---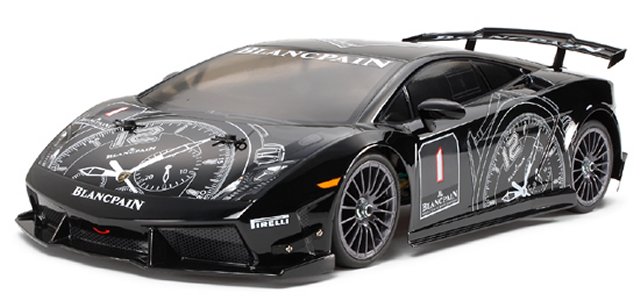 ---
| | |
| --- | --- |
| Tamiya Lamborghini Gallardo LP560-4 Super Trofeo #58456 TA-05 Ver.II - Chassis | Tamiya Lamborghini Gallardo LP560-4 Super Trofeo #58456 TA-05 Ver.II - Body Shell |
General Advice


For those starting in Radio Controlled Racing, here are a few Hints and Tips: Firstly, buy a Kit not an RTR. That way, if something breaks you will have some idea how to fix it.
Radio Controlled Models are easily broken. A-Arms, Wishbones and Shock Towers, are all weaknesses and must be protected. To do this you can line the body shell with polystyrene, shaped to suit the curves of your shell and held in position using Shoe Gum.
The Steering Servo is also a weakness in crash situations, so get a Servo Saver. Also get Titanium Shafts, Turnbuckles, Drive Shafts, Dog Bones and CVD. The standard steel types are far too easily bent.
Broken Gear teeth on Nylon / Plastic Spur Gears are a common problem, so after two or three runs check the nuts or self tapping screws that hold the Motor in position for security.
If the Kit comes with Plastic Bushings, Hop up to a set of Shielded Ball Bearings.



For Car Setup Information check out our Hints and Tips page.
Hints and Tips
Radio Gear
How to avoid Interference.

1/ The first consideration when installing your Receiver into your Electrically Powered Model is to make sure it is well away from the Negative Battery terminal, and the Motor. The Magnetic field can cause stuttering type interference at times of high current draw (i.e., Fast Acceleration)

2/ Make sure the Ariel tube is long enough for the Ariel wire. The tip of this wire is highly sensitive and should be as high, and as far away from the Motor as possible (yup, its that magnetic field prob again)

3/ If all else fails, a simple tip that often works for all RC Model enthusiasts is to wrap the receiver in Aluminium Foil, to shield against any magnetic and external radio interference.

4/ As a last resort, to protect against servo twitch, try ferrite beads. (available at Radio Shack or Maplins) These are threaded over the red, white (or yellow) and black wires of each servo.

5/ If you are using a FET Servo, the installation of a choke (a small electrical component) in the positive feed wire will smooth out any current spikes and reduce the possibility of "servo twitch".

6/ Another thing you might try is a "glitch buster" or "stutter stopper". Basically, this is a capasiter that simply plugs into your Radio Receiver and attempts to keep a level voltage supply to the Radio system.



For More Setup Information check out my Hints and Tips page.





On/Off Road
RC Models:

Other RC Models:

Radio Equipment:

Accessories: