RCScrapyard ► Iconic Vintage Radio Controlled (RC) Model Car Archive ► Tamiya Lamborghini Gallardo LP560-4 Super Trofeo. ITEM #58456 (TA05 ver.II)
| | | | | |
| --- | --- | --- | --- | --- |
| | | Established 1999 | | Site Search |
Radio Controlled Models

From Around The WORLD
---
Tamiya Lamborghini Gallardo LP560-4 Super Trofeo - #58456

This Tamiya TA-05 Version II (TA-05 V2) Chassis based model is of the Lamborghini Gallardo LP560-4 that raced in the 2009 Lamborghini Blancpain Super Trofeo one-make racing series.
The Lexan body shell is a detailed representation of the cars sporting lines. Decals of the watch face livery are included in the kit.
The TA-05 Chassis was first released in 2005 with a number of interesting innovative features, such as, ultra low centre of gravity and centrally mounted motor, spur gear and pulley plus matching front and rear pressure plate ball differentials and casings with equal length drive belts which kept production costs for Tamiya low, and therefore maintenance costs for the owner as well.
2007 saw the introduction of the TA-05 IFS (Inboard Front Suspension) version, employing a lay-down shock system mounted behind the front gearbox to allow for lower nosed body shells and in 2009 the IFS was updated, the difference being a narrower chassis, re-designed motor mount and a number of other parts from the TRF-416X. The chassis was re-launched as the TA-05 Version II.
Personally, I found the lay-down shocks a pain to set up for varying track conditions. However, a conversion kit is available.
To get the best from the Tamiya TA-05 Ver II Chassis, it needs to be fine tuned to hug the corners at high speed, without slipping off the track and accelerate smoothly under control. Small adjustments can make a Big difference and our simple to understand, step by step procedure, will guide you to the best Set-up for your driving style.

Rating: Reviewed by:

RCScrapyard

Manual.




---







---

★ Tamiya Lamborghini Gallardo LP560-4 Super Trofeo - TA-05 Ver II ★

---



---
---
---
---
---
---







---

Tamiya # 58456: For Sale in the USA

---









---

---




Tamiya Lamborghini Gallardo LP560-4 Super Trofeo #58456 TA-05 Ver.II - Chassis

Tamiya Lamborghini Gallardo LP560-4 Super Trofeo #58456 TA-05 Ver.II - Body Shell




Hints and Tips

Keeping Notes


If all you will ever do is go racing at your local track every week, then this article is not for you. However, if you ever look towards travelling around to different tracks around the country, or even the world, the value of keeping notes is all too obvious.

Every time I raced in a regional or national competition meeting, I would make detailed notes, aided by a little local knowledge initially, and later fine tuned to suit my own driving style.

My experience now means there are few, if any outdoor tarmac tracks within a 300 mile radius I haven been to, and my notes on motor, gearing, camber angles, shock settings, tire choice and what inserts work best for that particular track, amongst others, allow me to save valuable time on the finer points of car setup, that can be done in the warmth of my own home on the kitchen table days before the meeting, instead of the often crippling heat, or the arduous conditions inside a wind blown tent.

There are lots of methods for making notes on setup. The easiest perhaps is to download the blank pages often supplied by your cars manufacturer with a line drawing of your car and spaces for you to fill in as to the setting you prefer. Great if each time you go to a particular track the conditions are always constant. Notes made on a cold windy day will be little use on a hot sunny days racing on the same track.

Manufacturers setup pages for their top drivers can also be useful as a starting point, but you should never take that setup as being the best there could ever be.

So, the first note you should make is of the weather conditions. The wind and its direction isn't really what I am talking about, although it can have an effect on your cars handling, it is not something you can change your setup to handle. Track temperature and humidity are the main things to note. Not the average for the day, but for each round of racing. And note what tires you used, and how the car handled in each race. Detail everything that might be useful in the future, no matter how trivial.

Note the motor used, and the gearing. Check the temperature of the motor after the race, how much charge is left in the batteries. You may have won the race, but there is always room for improvement … your competitors will be doing just that.

Every bit of information you compile will be useful for the next time you visit that particular venue. Weather forecasts these days are far more accurate than they used to be, so the adage "fore warned is fore armed" fits the bill. Simply search through your notes and find a day you raced with similar conditions to those forecast, and set up your car to suit. But don't stop there.

The conditions may be the same as they were when you made your notes, but that doesn't mean you can't improve your setup. Your practice laps will soon prove if your previous setup was correct, or give you a basis for more fine tuning.

If you want to be the best, you have to work at it. Success doesn't come easy. You can be the best driver around, but if your setup isn't perfect you will never step up onto the winners rostrum. My motto … if you never try anything, you never do anything. And if you never do anything wrong, you aren't trying hard enough.



For More Setup Information check out my Hints and Tips page.








---

^ TOP ^
---

★ RC Information and Advice ★

---
---
♥ Add This Page to your Favorites (Ctrl+D) ♥
★ Tamiya Radio Controlled Model Accessories: ★
---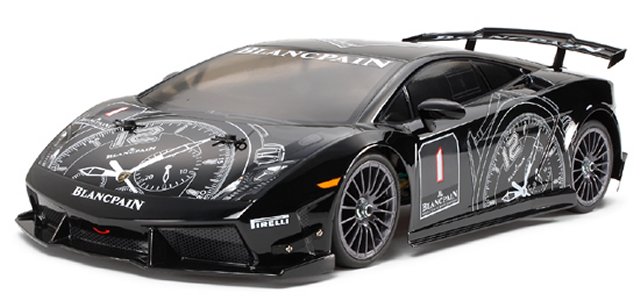 ---
Hints and Tips
Soldering

In the sport of Radio Controlled racing, there are a number of things you have to learn to get you up there with the best. One of the most difficult, for those with little practical skill, is the art of Soldering.

For their 540 silver can motors, Tamiya provide two wires, typically green and yellow, soldered to the endbell, with two bullet connectors to plug into the speed controller. While this is fine for bashing around the back yard, if you were to advance to a higher level you will soon find just how inefficient this method is.

Motor wires are best soldered directly to the ESC. That way no energy is lost through high current draw. Some of the top drivers at one time even used to solder their batteries directly to the ESC, but these days with connectors such as "Deans" and "Power Pole" this isn't necessary … but I still wouldn't use any kind of connector for the motor.

There are basically two kinds of solder. Plumbers solder which is made up of 60% Lead and 40% Tin, where as electrical solder is the opposite 40% Lead with 60% Tin. NEVER use plumbers solder for your battery, ESC or motor joints. Lead melts at 327 degrees C, where as tin melts at 232 degrees C. The higher Lead content of plumbers means it melts at a higher temperature, which is not good for your battery cells. Also, Tin has almost half the electrical resistance of lead, so with the higher Tin content of electrical solder, electricity flows much easier to your motor.

More recently, due to the European regulations for lead use, lead free solders are becoming more widely used … well, in Europe anyway. The problem with lead free is the melting temperature … it is much higher, making it difficult to produce reliable joints.

Lead, as we know, is a poison to the body if ingested or inhaled in certain quantities. so when using lead based solder, try not to inhale any of the fumes and always wash your hands after completing your work. One of my friends also wears cotton gloves, but I find these cumbersome.

For me lead / tin solder is far easier to use, and if used with care, has less potential to damage your batteries having a much lower melting temperature.



For More Setup Information check out my Hints and Tips page.




---

On/Off Road
RC Models:

Other RC Models:

Radio Equipment:

Accessories: