RCScrapyard ► Iconic Vintage Radio Controlled (RC) Model Car Archive ► Tamiya Blitzer Beetle. ITEM: #58122
| | | | | |
| --- | --- | --- | --- | --- |
| | | Established 1999 | | Site Search |
Radio Controlled Models

From Around The WORLD
---
Tamiya Blitzer Beetle - #58122

1/10 Scale Electric Buggy:

Originally released in 1993, the Blitzer Beetle was part of the fun to drive Blitzer family of vehicles from Tamiya and is one of my very favourites.
The styrene body shell of the VW Blitzer Beetle is highly detailed and the model itself had the advantage of being simple to construct and maintain. The speeds attained and the excellent stability of this car make it an easy car to drive off road, on gravel and on tarmac and was raced by people of all abilities from beginners to seasoned racers.
Enthusiasts agree that this is a true Tamiya Classic and is very collectable, so much so that in September 2011 the Blitzer Beetle was re-released (#58502) and a Chrome version was made in 1999 (#58252).

Rating: Reviewed by:

RCScrapyard

Manual.




---







---

★ Tamiya Blitzer Beetle ★

---



---
---
---
---
---
---





---

Tamiya # 58122: For Sale in the USA

---








---

---




Tamiya Blitzer Beetle #58122 - Chassis

Tamiya Blitzer Beetle #58122 - Body Shell




General Information and Advice

RC is one of those sports that can be simply bashing around the back yard, or taken to the extreme of National and International Racing: For those who would like to enter this world of miniature Models, here are a few basic Hints: Firstly, buy a Kit not an RTR. Then, if something does break on your model, the experience you gain by building the kit will give you some idea how to fix it.

Radio Controlled Model Cars are easily broken. Wishbones, Suspension Shock Towers, Dampers etc are prone to damage, so make sure you have a good strong front bumper and never run your car without its Body Shell in place.

The Steering Servo is also a weakness, so if your kit does not have one, get yourself a good quality Servo Saver. I would also recommend you replace the soft steel Turnbuckles, Tie Rods and pivot/steering shafts with Titanium versions, and if you get serious about your racing, lightweight Titanium Drive shafts, dog bones and CVD (Constant Velocity Drives). The standard steel ones bend far too easily.

Gears in RC model cars often cause problems. Head on collision accidents can damage gear teeth on Nylon/Plastic Spur Gears, and sometimes even the Bevel Gears inside the Gearbox. Hard impacts may also slacken the nuts and self taping screws that fix the Motor in Position, making it possible for the Pinion Gear to pull out of mesh a little and damage the teeth on your Spur Gear. To try and prevent this, you should always fit locking (Nyloc) nuts, and if your mount uses self tapping screws, change the plastic motor mount occasionally to ensure a tight fit.

Plastic Ball Connectors can cause problems. For top level Radio Controlled model car racing, they need to be checked for tightness and if considered necessary changed after every race meeting. Something like a loose fitting connector popping off could easily lose you the race, so always err on the side of caution.

Quite a number of New car kits come with Plastic and Sintered Brass Ring type bearings. These can cause problems if at some time in the future you want to fit a full set of ball bearings so I recommend you discard the brass and plastic types before installation, and get yourself a Hop-up set of Shielded Steel Ball Bearings.

Finally, try to keep the Centre of Gravity of your model as low as you can. This can vastly improve the handling of your car when cornering at high speed. For On Road Drift/Touring cars the Ride Height should be around 5mm, for Buggys, Trucks, Truggys and Monster Trucks, as low as practical for the track conditions. Body Roll can be reduced by using Stabilizers, Anti roll or Sway Bars. Tuning Springs may also help with thicker, or thicker Silicon Oil in the Shock Absorbers. Also look towards mounting the Transponder as low as you can in the Chassis.



For Car Setup Information check out our Hints and Tips page.




^ TOP ^
---

★ RC Information and Advice ★

---
---
♥ Add This Page to your Favorites (Ctrl+D) ♥
★ Tamiya Radio Controlled Model Accessories: ★
---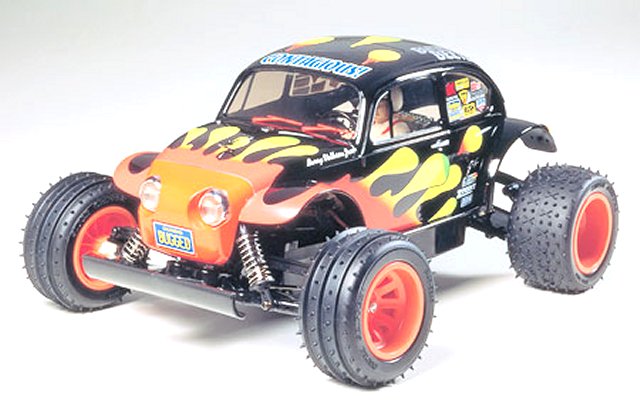 ---
Hints and Tips
Soldering Battery Packs

Nicad and Nimh batteries sometimes come as six separate matched 1.2 volt cells. These of course have to be soldered to each other in series to produce either a side by side stick pack, or a two times three cell saddle pack.

Special copper, or silver plated straps must be used to make up these packs, and each strap must be prepared before attempting to solder it to the battery cell, by placing a blob of solder at each end of all the straps needed.

A jig to hold the cells vertical and side by side is advisable. Using electrical solder, with a flux core (flux aids the flow and adhesion of the solder) heat your soldering iron to as hot as it will go. Then with the stick of solder touching on the end of the cell, touch it with the iron. What you want it to spread evenly on the central part of the pole of the cell. Count to 3 seconds. If it doesn't melt the solder in that time, your iron is not hot enough. Battery cells are notoriously very fragile, and susceptible to the very high temperatures soldering requires. Anything longer than four or five seconds direct contact with the iron can cause damage to the crystal structure in the cell, so be wary.

When you have solder on each end of each cell, line them up in the jig, positive to negative and dab a spot of flux on the soldered cells, then position your straps, with the solder coated side faced down, touching the solder on the end of the cell. Now place your hot iron on the strap. Heat will transfer through the strap and melt the solder on the two faces. Again, count to 3 and you should feel the strap drop slightly as the solder fuses with the solder on the cell. Repeat this for each cell on both sides to produce your desired configuration. Finally solder your two wires, previously prepared with connectors, to the pack. Do not solder wires with bare ends to your pack. If these wires were to touch and short out, you could effectively kill your expensive battery pack I use Red for positive and Black for negative, but so long as you know which is which … electrical equipment does not like the battery to be connected the wrong way.



For More Setup Information check out my Hints and Tips page.




---

On/Off Road
RC Models:

Other RC Models:

Radio Equipment:

Accessories: