RCScrapyard ► Iconic Vintage Radio Controlled (RC) Model Car Archive ► Tamiya Baja Champ. ITEM: #58221 TL01B
| | | | | |
| --- | --- | --- | --- | --- |
| | | Established 1999 | | Site Search |
Radio Controlled Models

From Around The WORLD
---
Tamiya Baja Champ - #58221

Released by Tamiya in 1998 and based on the TL-01B chassis ("B" for Buggy) the Baja Champ was known for its good handling and it was agreed by many radio controlled racing enthusiasts as being fun to drive. It was however known for its fragility in ruff terrain and crashing often meant a full rebuild, but with the high number generic features of the Baja Champ, rebuilds were comparatively cheap.
To keep tooling costs low, the chassis Tamiya used for this model was basically a TL-01 touring car chassis with longer suspension arms and shock absorbers. Because so many TL-01 models were released, spares for this model are relatively easy to find.
Classed as a "beginners model" by some race-goers, because of its straight-forward design, a multitude of adaptations were possible to vastly improve the cars performance levels to compare with many of its more expensive rivals.
The kit comes with plastic/nylon and sintered brass bush type bearings that after a short while, when dust and grit get into them, actually wear into the metal drive shafts - if you are building this kit to race seriously these should be replaced by steel, rubber shielded ball bearings.
The low price and simple design was the key to the Baja Champs success and will long remain a favourite with many RC club racers.
To get the best from the Tamiya TL-01B Chassis, it needs to be fine tuned to take jumps without bottoming and handle corners at high speed, without slipping off the track. Small adjustments can make a Big difference and our simple to understand, step by step procedure, will guide you to the best Set-up for your driving style.

Rating: Reviewed by:

RCScrapyard

Manual.




---







---

★ Tamiya Baja Champ ★

---



---
---
---
---
---
---





---

Tamiya # 58221: For Sale in the USA

---








---

---




Tamiya Baja Champ #58221 TL01B - Chassis

Tamiya Baja Champ #58221 TL01B - Body Shell




Hints and Tips

Tires for RC Models




Rubber Tires:

Rubber Tires ALWAYS should have either soft sponge or rubber inserts. They will not function as they should without them. And if you are totally serious about your racing they should be glued to the rims.

You should also have at least three different compounds (Soft, Medium and Hard) fo varying track temperatures in On Road tarmac racing Touring cars, and varying pin sizes for carpet, and Off Road racing Buggys and Trucks.



How to Mount Rubber Tires onto Wheels/Rims.

Before mounting your Tires, I would recommend talking to the more experienced racers at your local club, as to what inserts they use. Even the top level racers rely on a bit of local knowledge on tracks they have never raced before.

1/ Once you have decided what inserts to use, position them inside the Tires ready to go onto the rims.

2/ You will need strong fingers to pull and maneuver the Tires over the rims, so you may need the help of an adult. I would recommend NOT using metal Tire levers or a spoon as they can not only damage the fragile plastic rims but can also put small tears in the rubber, that could cause problems later.
The technique I recommend, is to first of all hook the Tire on one side of the rim, then using the thumb and forefinger, grip the Tire and pull it upwards and over into position around the middle of the wheel, then over to its final position on the far side so that the beading is seated in the spigot. then position the near side beading in the opposite spigot making sure the sponge (or rubber) insert is not trapped and positioned centrally.

3/ You have the option of either gluing or not gluing your tires in position. If the track you race at is not too grippy you can get away with it, but on high grip tracks there is the possibility the tire might pull away from the rim and ruin your race.
My recommendation is to glue them.
Superglue is the thing to use. To do this, carefully pull the beading out of its seating, put on a spot of glue, then quickly push it back down. repeat this at least 6 times around each side of the wheel.
Superglue can be dangerous, so this is best done by an adult.



For More Setup Information check out my Hints and Tips page.








---

^ TOP ^
---

★ RC Information and Advice ★

---
---
♥ Add This Page to your Favorites (Ctrl+D) ♥
★ Tamiya Radio Controlled Model Accessories: ★
---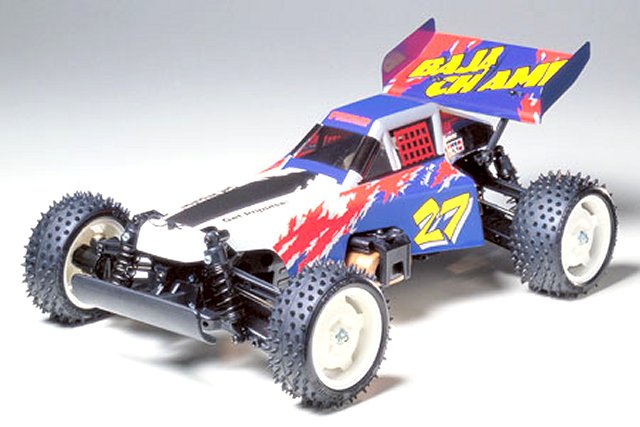 ---
Gear Differentials

The Gear Differentials, commonly used in Tamiya Buggys, Trucks, Touring Cars, Monster Trucks and some of the early Tamiya Formula One and Le-Mans cars, are by design more robust than the high maintenance Ball Differentials.

The configuration uses a main drive gear, fixed on each side of the drive axles, and either three or four small metal orbital bevel gears, in a plastic gear housing, providing the drive to each side of the car when cornering, to allow the inside wheel to rotate slower than the outside wheel.

Maintaining your Gear differentials is crucial if your car is to be competitive. Regular greasing is required, preferably molybdenum grease with graphite flakes, smeared over the gear teeth. If neglected, the gear teeth grind and wear at a rapid rate, and will quickly fail, leaving you with a potentially expensive rebuild.

For slower moving models such as Monster Trucks, Rock Crawlers, and budget end Off road Buggys, Trucks and On Road Drift and Touring Cars, where low friction differential action is not essential, Gear Differentials are ideal, providing drive to each wheel as required. However, for top level competitive racing ,On and Off Road, Ball Differentials are preferable. Admittedly, they require a little more maintenance, but the benefits on the track far outweigh the negatives of the old Gear diffs.



For More Setup Information check out my Hints and Tips page.




---

On/Off Road
RC Models:

Other RC Models:

Radio Equipment:

Accessories: