Roll Center and Roll Moment

Cornering Chassis Roll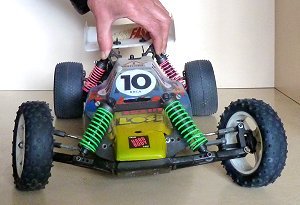 Roll Center can be adjusted by Lengthening, Shortening, Raising or Lowering the Camber Links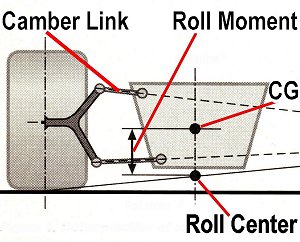 Rear Roll Center Camber Link Adjustment Options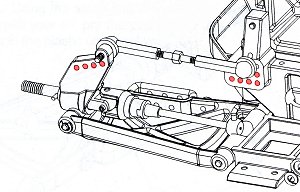 Front Roll Center Camber Link Adjustment Options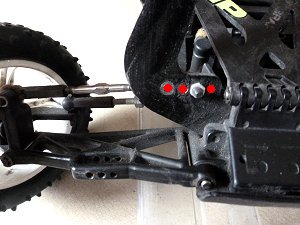 What is Roll Center?


One of the least understood settings on RC model cars is concept of roll center. The simple definition of roll center is a point in space that the chassis rolls from side to side as the car maneuvers around a corner.

To calculate roll center you have to consider things like the height of the axles, the inside and outside camber link positioning, the length of the suspension arms and the location of their inside pivot point. Sounds complicated doesn't it … and in truth … it is.

On all RC model cars, most of the cars weight is above the chassis and the center of gravity of the car is not only from front to rear, but also from top to bottom. This point is called the "true" center of gravity and is the point around which the weight of the car will want to roll from side to side, but it is the roll center of the chassis that the chassis will actually roll around, not the center of gravity.

Once you have determined the positions of roll center and center of gravity, you can calculate the "roll moment". It is this that determines how easily the chassis will roll from side to side.


The Effect of Roll Center on your Car


But what does all this mean? I hear you ask. Well, it gives you some insight to what changing the position of your camber links can do to the way your car handles.

Lowering the outside camber links, lowers the roll center, so conversely, raising the outside link position raises the roll center.

Lowering the inside camber link position raises roll center and raising the inside camber link position, lowers the roll center.

Any of these adjustments will affect the "roll moment" and therefore you have some control of body roll.

The length of the camber link bars affects the speed of roll center change as the car driver around corners. Longer links increase the rate of change. Shorter links decreases the rate of change.

Adjustments to the roll center will change the way the car reacts in a number of ways.

Lowering the front roll center gives more steering under acceleration, but the car is less responsive. Ideal for smooth high grip tracks, with long sweeping corners.

Raising the front roll center provides less steering when accelerating out of the corner, but the car feels more responsive and is less prone to traction roll. Best for high grip twisty tracks.

Lower rear roll center improves grip under acceleration, but reduced grip when breaking. Helpful to avoid traction roll as you enter the corner and tracks with low grip to increase traction.

Higher rear roll center gives you less grip under acceleration, but the car is more responsive. Works for high grip twisty tracks to reduce traction roll.



For More Setup Information check out my Hints and Tips page.