Tamiya Russian Heavy Tank KV-2 Gigant - Full Option Kit - # 56029 (Radio Controlled Model Review)
1/16 Scale Electric Tank -
Released by Tamiya on October 21, 2009, the Russian Heavy Tank KV-2 Gigant (#56029) is the Full Option Kit version, with a battery, charger and 4-channel radio system included.
A front-mounted double gearbox, with two electric motors, operate together or individually to produce forward/reverse running and pivot turning. Metal torsion bars and suspension arms combine with the wide tracks to smoothly absorb bumps and dips in the terrain and provide high manoeuvrability. In addition, realistic engine sounds accompany the tank as it starts up, drives and stops to idle. The main gun can be elevated, depressed and swung to the left and right.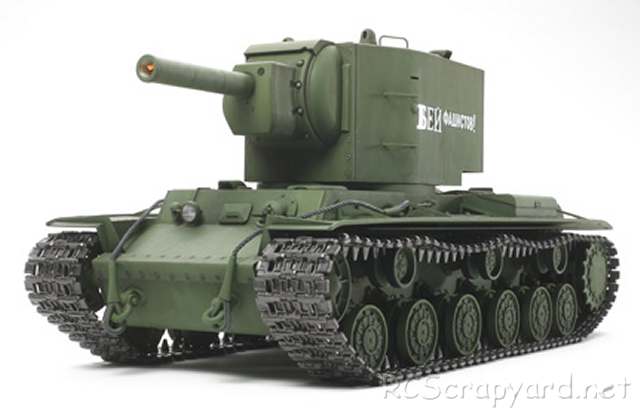 ▼ Scroll Down for More Images ▼
When the Soviets entered the Winter War, the SMK, KV and a third design, the T-100, were sent to be tested in combat conditions. The KV outperformed the SMK and T-100 designs. The KV's heavy armour proved highly resistant to Finnish anti-tank weapons, making it more difficult to stop. In 1939, the production of 50 KVs was ordered. During the war, the Soviets found it difficult to deal with the concrete bunkers used by the Finns and a request was made for a tank with a large howitzer. One of the rush projects to meet the request put the howitzer in a new turret on one of the KV tanks. Initially known as 'Little turret KV' and 'Big turret KV', the 76-mm-armed tank was redesignated as the KV-1 Heavy Tank and the 152 mm howitzer one as KV-2 Heavy Artillery Tank.
This model comes with metal bushings, that after a short while, when dust and grit get into them, can actually wear into the metal drive shafts that spin in them - we recommend these should be replaced by a full set of steel shielded ball bearings ASAP.
Rating:

Reviewed by:

RCScrapyard
Manual.