RCScrapyard ► Radio Controlled (RC) Models, 75Mhz Digital Radio Equipment / Systems.
| | |
| --- | --- |
| | |

75Mhz Radio Systems

For Radio Controlled Models
Introduction

Choosing the right Radio System for your requirements can be difficult for those new to RC. If you are unsure what System you should be looking for, check out my article "Choosing a Transmitter".

Also on this page, you will find my article "How to avoid Interference", based on a number of tips I picked up from some of the top racers I encountered in my many years in the sport. These tips are useful to all forms of RC.

---
---
---
---
---
---
---
---
---
---
---
---
---
---
---
---
How to avoid Interference.

1/ The first consideration when installing your Receiver into your Electrically Powered Model is to make sure it is well away from the Negative Battery terminal and the Motor. The Magnetic field can cause stuttering type interference at times of high current draw (i.e., Fast Acceleration)

2/ Make sure the Ariel tube is long enough for the Ariel wire. The tip of this wire is highly sensitive and should be as high and as far away from the Motor as possible (yup, its that magnetic field prob again)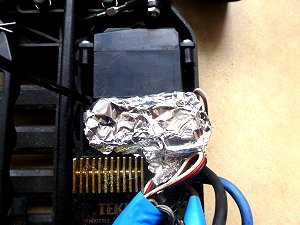 3/ If all else fails, a simple tip that often works for all RC Model enthusiasts is to wrap the receiver in Aluminium Foil, to shield against any magnetic and external radio interference.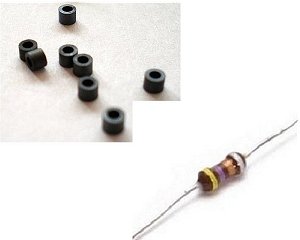 4/ As a last resort, to protect against servo twitch, try ferrite beads. (available at Radio Shack or Maplins) These are threaded over the red, white (or yellow) and black wires of each servo.

5/ If you are using a FET Servo, the installation of a choke (a small electrical component) in the positive feed wire will smooth out any current spikes and reduce the possibility of "servo twitch".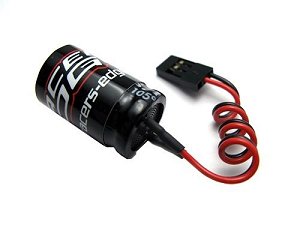 6/ Another thing you might try is a "glitch buster" or "stutter stopper". Basically, this is a capacitor that simply plugs into your Radio Receiver and attempts to keep a level voltage supply to the Radio system.



For More Setup Information check out my Hints and Tips page.




---
---
---
---
^ TOP ^
---
---
---
---
---
---
---
---
^ TOP ^
---
---
---
---
^ TOP ^
---
---
---
---
^ TOP ^
---
---
---
---
---
---
---
---
^ TOP ^
---
---
---
---
^ TOP ^
---
---
---
---
---
---
---
---

On/Off Road
RC Models:

Radio
Equipment:

Accessories: