RC Model Car Weight


If you ever step up from club racing and enter a regional, national or international event in RC, you will find one specific rule concerning the weight of your car.

At the time this article was written, the Minimum weight restrictions for 1:10 electric Touring Cars at different events, was between 1350g and 1500g. This includes your Motor, ESC, Receiver, Battery, Body Shell and the transponder.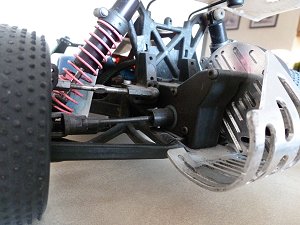 Out of the box you will find the majority of 1:10 Touring Cars, with everything onboard, are way over this Minimum weight and unless you are good enough to attract sponsors, getting your car down to anything approaching that minimum weight will be very expensive.

There are things you can buy like micro ESC and Receivers. But Batteries and Motors are what they are and you have to work around them.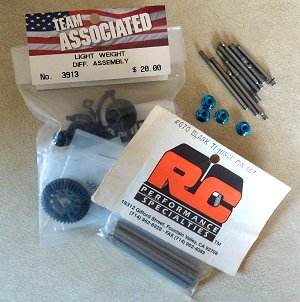 To reduce the weight of your chassis, there are a number of things you can do. If the car you have is generally considered competitive enough, there are often carbon fibre main chassis, shock mounts and other alternative parts available, but they are expensive. And when the new version of your model comes out all the money you have spent is lost.

The most cost effective weight reduction is the metal parts of your chassis. UJs, Drive and Pivot shafts and the like tend to vary from model to model, but turnbuckles can often be transferred and lengthened or shortened by using plastic ball connectors, so titanium is a consideration.

Screw sets can also be transferred from car to car. Titanium screws and wheel nuts are always available, but there is a cheaper alternative … Aluminium screws and nuts can reduce your cars weight cheaply, but be careful not to over-tighten them, aluminium is not as strong as titanium and can easily shear off if you are over zealous.

Another weight reduction option is to drill holes along the base of the chassis. However, I do not recommend this. For one thing you are reducing the strength and making the chassis less rigid, but you are also raising the center of gravity of your car, which can affect stability.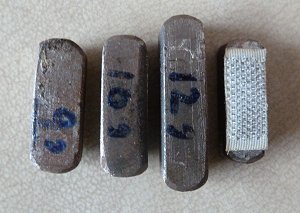 If you do manage to get your car weight below the minimum allowed, this will give you an opportunity to add weight where you want it and lower the cars center of gravity.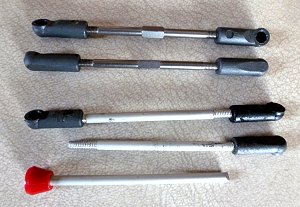 One last tip: Knitting needles. When I first started in RC, money was tight and my dad came up with all kinds of ideas to reduce weight. He obtained a 3mm dye and found some of my mums old aluminium knitting needles that were just the right diameter. Having determined the length of the turnbuckles needed for my setup, he cut them to those lengths and threaded each end, so he could put plastic ball sockets on them. Adjusting them was a bit of a pain and they could be a bit fragile in crash situations, but they saved us lots of money over those early years.



For More Setup Information check out my Hints and Tips page.